God I hate morning flights – I think I've gotten spoiled with the mid-day flights to Oakland.
Up at 5. Out of the house at 6 with Raf driving me to the airport (thanks Raf), through security and in the Board Room by 6:30 for my 8:45 flight.
Why so early — well, it's me, and there is the free breakfast and drinks at the Board Room. I have to get my money out of that $300 a year membership.
Off I go to the land of the mouse — Orlando. And not in first class. I asked at the desk and I was number eight on the list. At least I'm one row behind first class, in 6D. Unfortunately, when I looked last night at seats, the one next to me was open. By this morning is was filled with someone larger than me who as spilling other both sides. Not big enough to require a seatbelt extender, but close. That's OK — it's only a 6 hour flight. It could have been worse, at least he didn't have body odor.
Slept for part of the flight, read for the rest. Finished Aaron Elkin's A Glancing Light and am now two thirds of the way through David Sedaris' Dress Your Family in Corduroy and Denim which I'll leave with Dan and Lisa.
Speaking of Dan and Lisa, they picked me up at the airport about 20 minutes after I got in. My flight was half an hour early so that wasn't bad considering they started out in St. Pete. Luckily they brought enough food and booze for at least the first night so we went straight to the WorldMark Orlando at King's Reef. Such a weird name — and where is the reef?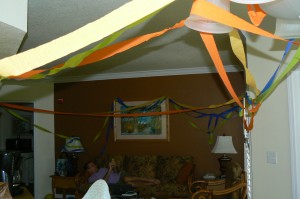 Like what we did to the place? It's all the streamers and balloons from the Window 7 Launch Party Kit. Gives the place a festive look.
Dinner tonight was chicken thighs in a pan sauce (thanks Dan) and broiled asparagus (thanks Lisa) and a lovely bottle of wine following a couple of rounds of Manhattans.
Dessert was a little WII Bowling since they brought their setup, and I brought my WiiMote.
Add a little time in the hot tub and it was off to bed.
[221.1]