I'm getting into a bad habits here in Florida…. I've been sleeping in until 10am. Of course, that's 7am Seattle time so that would mean that I'm getting up earlier than normal.
Brunch this morning (that's what you get if you sleep until 10) was a scramble of Bermuda onion, mushrooms, chicken thigh, eggs and cheese. Yummy.
On and off of work for the late morning and early afternoon but it's nice when the sun is out, you can stop working and go get a little vitamin D: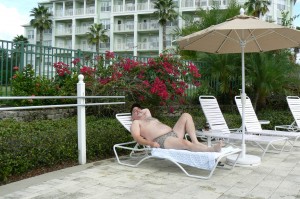 Afternoon snacks of apples, celery and peanut butter dinner tonight is at Roy's.
Roy's Hawaiian Fusion Cuisine is a delightful place for a chain — a very upscale chain though. What did we all have?
Dan had starter of beef steak tomato and blue cheese (and way too much frisee) followed by the seafood platter of scallops and shrimp
Lisa hadprix fixe menu of the grilled endive, shrimp and risotto, followed by the pumpkin moose
Mark had the canoe appetizer platter for two (for one in this case) with sushi, ribs, spring roll, dim sum
A round of espresso (mine with cointreau) followed, along with a complementary chocolate lava dessert — and a framed photo of the anniversary couple (OK — it was really the 31st) and we were stuffed to the gills.
And then back to the house for a little WiiBowling with our nightcaps.
[? ? ?]