Another early day on this adventure. Now up at 4:30 to make the 6:06am Amtrak train to Lamy — which besides being the rail stop for Santa Fe is a mere 10 minutes from my parents house in Eldorado.
Basically about 40 people got off the train and about the same amount got on the train. That's a lot of people for a small town.  And there were even a couple of "skater dude" types which made me happy.
I had my breakfast on board the #4 Southwest Chief — apparently it was a new kitchen crew because we were the first seating (for at least 15 minutes) and it took them 45 minutes to get any of our order out of the kitchen. I was seated in coach, but with a bulkhead seat — the downside on a train to that row is that there is no tray for your food or laptop.
Train was on-time and even early into Albuquerque which meant that I could take the weekly marketing call from the platform once I figured out where the mute button was on my borrowed phone. Call as done in an hour leaving me a little time to wander before getting back on the train.
Lunch before and after the conference call was the left over ribs from last night.
Uneventful trip — which is always the best. Unless you count the two cows that we killed while passing through the Pueblo… I guess the dining car was out of Angus beef. That actually did delay the train for ten minutes so I was a tad late getting into Lamy.
At the parent's house I settled into work: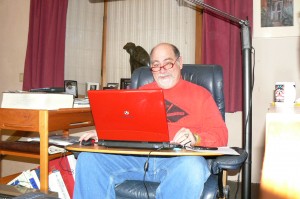 Nice lapboard courtesy of my father — apparently he saw one in a Levenger's catalog and went out and bought a sheet of furniture grade plywood and made his own — it's nice in this chair since it sits on the arms and has a cutout for my gut.
Dinner tonight was with the Ortiz Gang (my sis-in-law, bro-in-law, niece who live on Ortiz Street, one street over) and the meal was…. ribs — my father's off the BBQ, along with scalloped potatoes and an asparagus dish. Gee — ribs last night, ribs at lunch, ribs for dinner.
[? ? ?]