Next time… shower. That will be the motto.
I was up at 5:30am to have breakfast… in anticipation of getting in early to Los Angeles. Decided to nap after breakfast rather than shower. Bad decision.
On the upside? There was a little lounge at Union Station in Los Angeles with coffee and juice for the Sleeping Car patrons.
Downside… they were running late loading up and I smelled like a heifer by the time I boarded. I had to move the trash can out of the shower room to hose down before we left the station.
Lunch in the regular dining room — the Angus Burger with the works (cheese, bacon). The menu in the Parlour Car for lunch didn't look that good, and it came with a tomato soup which I knew wouldn't sit well (though I will try it tomorrow).
The morning and afternoon filled with work/play on the computer when I had a strong enough signal — and here is the map from 5pm: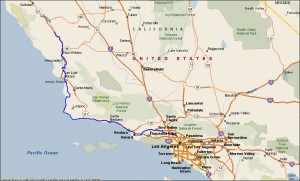 Amazing the coast route that they take — talk about "no coverage"!
Today's humorous email — can you work less hours… followed by 3 or 4 very specific requests for information/time. One way or the other… guess I'd better start the list of "must do" and "when finances allow"
Dinner tonight in the Parlour Car — though it was a bit of a cluster "you know what"… miscommunication between crew… but I got my 5-spice Duck Breast and started on a nice bottle of Greg Norman Petite Syrah (2007) which I will finish with tomorrow turkey wrap for lunch.
Train. Two days in a sleeper good. Three days, maybe too much.
[? ? ?]