Item One:
An email from American Airlines about my flight on the 21st of December…
Dear Mr. Souder:

We make every effort to operate each and every one of our flights as scheduled. However, inevitably problems will arise in a business such as ours. Please accept my sincerest apology for the disruption of your plans when you traveled with us on December 21.

We want to restore your confidence in us. In an effort to do so, I've added 5,000 bonus miles to your AAdvantage® account.
Wow — even before I had a chance to bitch about it. Wonder if they will do that again for my weather delays on the 25th (not holding my breath). That's enough for almost a year and a half of Wall Street Journal subscriptions.
Item Two:
The new Boeing 787 over the Cascades (this is airplane number two off the line, number one is painted in Boeing colors):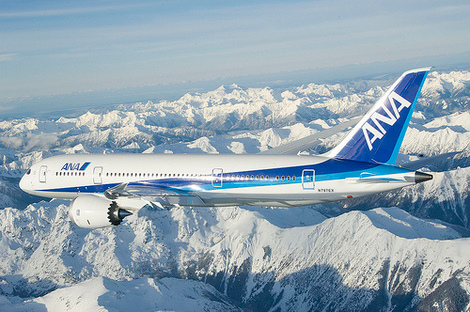 Nice plane, can't wait to ride it.
Item Three:
Speaking of planes I haven't riden yet, it would be the Airbus A-380 which in all coach configuration will seat 855 people. This shot of the double-decker is from LAX from the Christmas trip: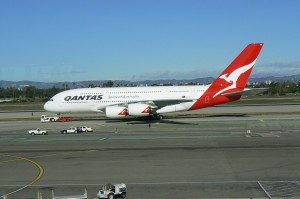 For my day, worked a bit around the house (400# of gravel spread), made a Salvation Army donation run on the way to Home Depot for third (of ten) visits, billed a little bit, and basically got ready to head out to dinner with Kevin tonight.
[219.0]