OK — I've got two upcoming trips… Tucson starting on Thursday:
71° / 42°

But then going a few degrees cooler — not sure how that bodes for my planned pool time. And then Denver next Tuesday:
37° / 23°
And then later that day Estes Park for the Three Bedroom Presidential Condo at the WorldMark:
28° / 16°
Some might wonder why the hell I don't stay in Tucson. Must be the miles — certainly isn't First Class since it doesn't look good for Tucson in either direction. Seriously sold out planes. Only really expensive seats still available, and those probably in the middle. Oh well, its a three hour flight.
But what about those shoes? They arrived today at the apartment (actually yesterday but I was too lazy to drive over) and here they are on the dining table: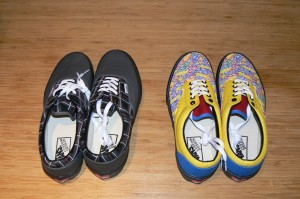 Thinking of taking the pair on the right to Tucson with me.
It was a quiet night at home — I should go back to entertaining, seems like my weight creeps up when I'm home alone.
[224.0]