This schedule with BrightHeart arriving really late to starting to wreck my sleep schedule if I want to spend any time with him. Today we didn't get out of the condo until after 4pm – just in time for a crush of people at the Safeway store for an Open House with lots of giveaways… luckily they had self checkout.
But I do have a couple of pictures for the day… Number One? Interesting combination of businesses: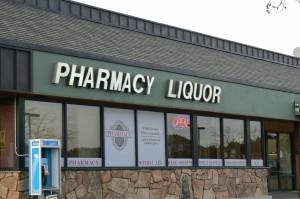 I've always wanted to buy drugs with my drugs.
Number Two — a shot of the Stanley Hotel that I mentioned in yesterdays' post with the sun starting to set: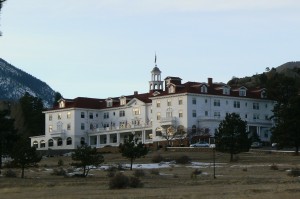 Lewis didn't show up until well after our dinner of German sausage and sauerkraut with an Asian salad on the side, with some wine from Argentina. The movie tonight (they gave me two coupons for free movies) was Balls Out: Gary The Tennis Coach, yet another comedy. Not nearly as good as last night's movie — but I chose it since I had to go to the office to print my boarding pass.
Yes, I watch silly adolescent movies when I'm on the road.
The evening finished with BrightHeart and Mike giving me a four-hand massage. No THAT's a way to put me to sleep.
[? ? ?]