The things I do for a First Class seat… like getting up at 4am. Did get a nice surprise when  checked in… I had reserved First Class using one of the four coupons per year that they (Alaska) give their MVP Gold fliers…  but when I went to check in, they had converted it to a complimentary upgrade so I didn't have to use my coupon. Nice. Who knows, maybe on the way home I'll be equally as lucky.
Breakfast was a choice of either the sun-dried tomato quiche with turkey sausage (I remember the luke-warm one from last week and pass) or the Northwest Benedict with Smoked Salmon. That would be the main to follow the starter of a fresh fruit plate with scones or rolls. The Benedict could have used more hollandaise, but then, is there ever enough.
Got into Boston on time, took the Silver Line (bus) to the Red Line (subway) to Harvard Square where I called Pucci to come fetch me… could have taken the Blue Line to the Green Line to the Red Line and been on the subway the entire time, but went for what showed up first.
A quick early dinner of chicken piccata before we headed to his gig which he was going to try and sneak me into… Sleep No More, produced by Punchdrunk (British) and the American Repertory Theatre. Alas, seems they had run out of masks so I had to spent all night in the bar that was part of the theatre production (which Pucci was playing in a trio with an occasional singer). The basic idea behind the whole production was "Shakespeare Meets Hitchcock". I think I was lucky to be marooned in the bar listing to good live music and only paying for one drink in three hours (and having many more than one).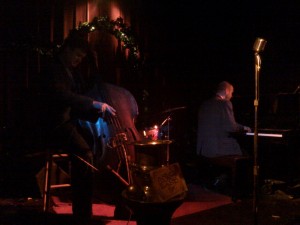 Back home around midnight for a little cheese, crackers, and cocktails.
[220.0]