What a day all about food…
Well, not breakfast, that was a toasted English Muffin before heading out to three stores for various groceries, and two more for booze.
Big Food Stop Number One:
RedBones BBQ on Davis Square. Four different sauces… ask for the sampler of all four sauces. Regular, Hot, Sweet (dark from what looks like molasses), and Vinegar — each good which is hard to find. Both Pucci and I had the pulled pork sandwich plate which comes with beans and slaw (all three HEARTY portions). Sandwich plate is $5.99 at lunch — and if you are seriously hungry, or just want to box up leftovers for dinner, go for the combo, which is whatever ribs they have handy, chicken, sausage, beans, cole slaw and dirty rice. It is a heaping plate of food. Excellend beer selection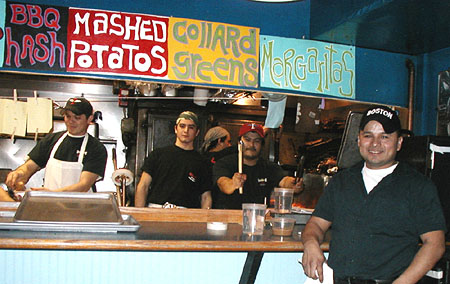 Big Food Stop Number Two:
Minado — Japanese Seafood Buffet Restaurant. $29.95 on the weekend evenings for all you can eat (cheaper during the week and at lunch). The picture below doesn't even show the other two lines (deserts and hot dishes).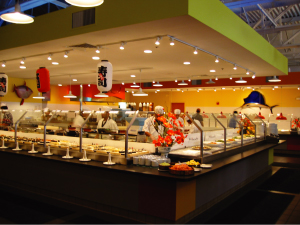 I was gobbling down oysters on the half shell, mussels, clams, sushi, sashimi, asparagus wrapped in beef, rare koke beef, dumplings, tempura, octopus salad… and then there were the things I passed on… whole king crab legs (too much work), a hibachi station, soups, desserts, salads… five locations on the East Coast.
Dinner was with Netta and the three kids — oops, I mean Netta, her husband and the two kids, along with two friends of their and their kid. A full table with eight, but the place is huge.
Got a ride home from Netta after she dropped the rest of the family off — even got a little quiet time with a nightcap (scotch for me, rum toddy for her).
And tomorrow the food continues with Pucci making a pot roast. Think I'm coming back to Seattle larger than I left.
[? ? ?]