Well, it didn't really arrive, I had to go down and sign my name half a dozen times to pick up the "registered letter" from WorldMark with my VANOC Permit.
What the hell is a "VANOC Permit"?
It is the permit issued by the Vancouver Organizing Committee to get north of Squamish on Highway 99 known as the Sea to Sky Highway and the only way to get to Whistler for the 2010 Olympics. It's big, it's plastic, it has a hologram: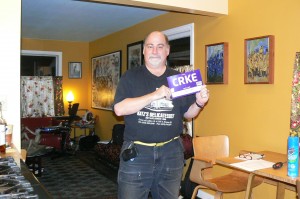 I'm assuming the CRK portion means we are staying in Creekside and they won't let the MommyVan past the second checkpoint… which is at Creekside.
That was stop number one on today's errand run. Other stops:
Cleaners to drop off all the shirts from the last couple of trips to be laundered, folded and bagged for the next trips
Apartment for VCR, dead laptop and package (movie for cocktail party on Monday at the Camlin)
Groceries (picked up a ton of marked down Kobe beef and tenderloins at Uwayjamaya)
Jimmies to drop off some oak chips I found while bug bombing the pantry (moved before the bug bombing)
Dinner tonight was a whole roast chicken (45 minutes in the convection oven) and because broadcast TV was so shitty, it actually got me to do all my tax season filing (well, at least stacking the papers I need by category and filing the ones I don't need). Hell, maybe I'll just send it all in and skip the appointment with the accountant — oh, but I need the number so I can contribute to my Keogh account.
Speaking of Keogh accounts — you can start drawing them down at 59.5 years old. That would be at the end of March 2016. Think I can make it?
[220.2]