Here is the view from my temporary office…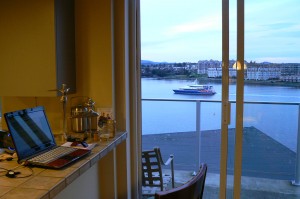 That would be the Victoria Clipper IV in the background, headed back to Seattle. That would mean that it was taken at a little after 5pm.
Today was a walking day… to the train station to see how long it will take in the morning (I'll be cabbing it — 25 minutes, might walk home), and back through town stopping to see how much the cute Olympic dog-flap hats were ($20, $30, more than I wanted to pay), to the Heron Rock Bistro for halibut and chips, then to Thrifty for more groceries (and a panicked call from a client), and back to the condo.
Turns out that little walk was like three and a half miles… no wonder my dogs are tired: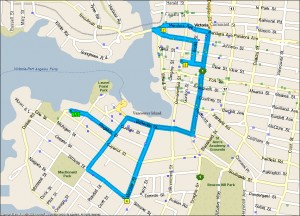 And speaking of dogs — I'm cooking Caribbean rum dogs for tomorrows train trip along with the some for tonight's dinner as well. Must be junk food day – fish and chips, sausages… but at least I'll be having a big salad tonight as well.
Quiet evening at home tonight, just sitting around watching the tube and tubbing.
[? ? ?]