Up at 6am to be out of the condo at 7am and onto a train at 8am. If Jill hadn't been coming in I would have taken the Sunday train which goes at a much more respectable hour of 10am (though it returns at 8pm rather than 6pm).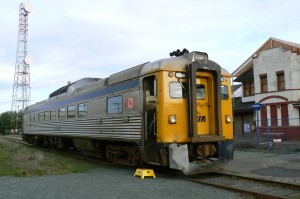 The single car train (is that even possible?) is from 1957, it was born a year after me. While it is possible for the train to go 120 miles per hour, the tracks limit it to 40 miles per hour on the straightaways. Hence, the 150 mile trip in each direction takes just shy of 5 hours. And as for Courtenay there isn't really anything there with the exception of the station where they hold the local AA meetings.
My recommendation for anyone doing the trip is to either go as far as Qualicum Beach which gives you about two hours to poke around — downtown looks walkable, or better yet, just get off in Nanaimo which gives you almost 5 hours to poke around.
Here is the famous scroller bar of shots from the trip so far:
Walked home from the train so I could pick up some wine for dinner — which was a salad and a rack of lamb ribs that I came close to incinerating on the grill. No movie tonight, just getting a little work done after dinner with the TV going in the background.
[? ? ?]