Lots of email back and forth this morning with Jill… with the subject line "Shit".
The Victoria Clipper IV was having overheating problems and a full boat of passengers…. 35 minutes out they turned around. By 10am they were headed back north, but at a lower speed. Turned the normal 2 hours 45 minute trip into a 4 hour trip. When they sailed again, they sailed with a reduced load, kicking all the day passengers off since they would only have an hour in Victoria. They were good to those who did make the trip:
free breakfast
free soft drinks
$1.50 champagne and grapefruit juice
20% off duty free
50% off your next Clipper ticket
Not sure whether they were able to restock for the afternoon return trip since they went through all the breakfasts and most of the lunches.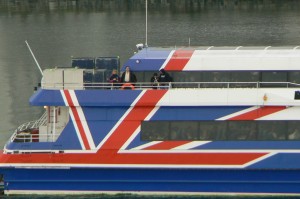 I was hoping to spot Jill on the back railing, but alas, she was inside and warm, arriving just in time for the SuperBowel (yes, an intentional typo). Saw the game, but with Canadian commercials — guess I'll have to look at them online tomorrow which raises the question, then why watch the game. Go Saints.
PooPoos this afternoon of stinky cheese from Salt Spring Island courtesy of the boys (who I need to visit one of these trips) and a loaf of bread out of the oven. Dinner was skinless-boneless BBQ'd chicken breasts with salad and wine. Dessert of a chocolate bar in the hot tub.
Life is hard.
[? ? ?]