A seriously slug-like day. Email, Solitaire, Read, Repeat with periodic food.
Jill left at 3:30 for the 5pm ferry back to Seattle, the same one I will be on tomorrow.
Dinner was cleaning up the rest of the stuff in the fridge…. sliced chicken breast over greens with blue cheese dressing, and a bratwurst (the other three are for breakfast/lunch tomorrow).
And the final shot post from this trip: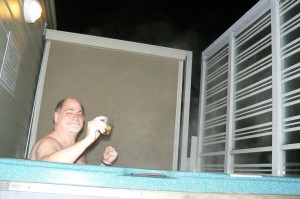 I look kinda happy don't I?
[? ? ?]