Sort of nice to have the place back to myself, if only for part of a day. I'll have company again soon enough at Discovery Bay later this week. It's also a chance to eat all the leftovers and not worry about proper meals.
I think this photo says it all about Victoria…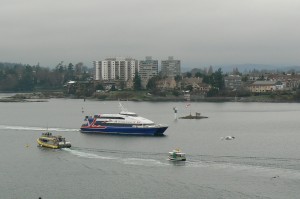 The Clipper, the Prince ff Whales Boat, a water taxi — first of the season, a couple of seagulls — the only thing missing is the Coho, the ferry from Port Angeles that came in this morning on it's first run after it's annual maintenance. Your basic overcast grey day in Victoria.
A light load on the Clipper this afternoon. Everybody had like six seats to themselves. Had the turkey sandwich baskets and a couple of scotchs. Read half a book I picked up at the book exchange at the resort.
Swanda was a dear and picked me up at the dock — my van being in the apartment garage. I've been spoiled over the last couple of years with free parking and free parcel receiving. That will end in March when he moves. Good while it lasted.
Couple of drinks and a little business chat, might be time to end that as well, and home to collect the mail and the remaining packages for the "Olympics gifts" for the boys going with me to Whistler next week.
Missy stopped by for a bit on her way to the studio.
Wow, what a boring post.
[? ? ?]