A nice king size bed in the master bedroom — didn't even notice Curt on the other side of the bed.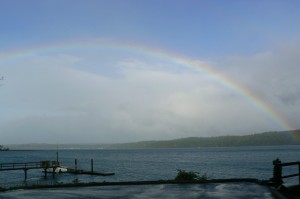 Sunsets and rainbows never look as good in the picture as they are in person.
Wave two and three arrive today for the weekend. Wave two is Rich, Spencer and David, in time for dinner — arriving at about 5:30pm.
Dinner was pork cutlets (a little thin for my taste, but tasty), a nice mixed salad, several bottles of wine and lots of good conversation.
Wave three was Ross about 8pm to clean up the rest of dinner.
Woke up at 4am on the couch and went to bed.
[? ? ?]