Another leisurely day — this one started with Eggs Benedict and Bloody Marys. Good thing I only do this every couple of months as I'd weigh a ton.
Here is a shot of the wild life: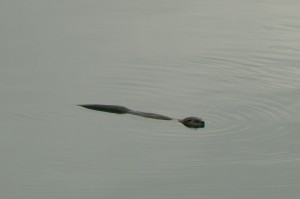 Our friend Mr. Otter. There is a pack (fleet? gaggle? pod?) of them that sleep on the dock next door during the night and forage all day.
And speaking of the tide… three of the boys left this afternoon: Curt, Rich, and Ross. Ross is hoping to get a little skiing in, and was excited that there might be room in the car for his skis — once we figure out how and where we are going to meet on the other side of the border since his Nexus pass didn't arrive in time. I wish he'd done this back in December when I sent the first mail.
Having been in the condo for days, I decided to check out the new convenience store at the Seven Cedars — holly shit — it's HUGE. Think separate deli, cigar store, liquor store, general groceries, produce, the works. I came out with a bottle of Lismore  (Scotch) on a Sunday — better than I could have done up the road in Sequim.
That leaves Spencer, David and I for a dinner of BBQ'd chicken, cauliflower and mushrooms in a cheese sauce, and little chopped vegetable salad, and a little wine for me. Neither Spencer or David drink wine, being diabetics and all.
Lots of watching the Olympics before during and after dinner.
Happy VD everyone.
[? ? ?]