The boys left fairly early in the morning… that would be Spencer and David — things to do at the house on their day off.
As for me — 10:30 and I was out the door headed for Forks (hence the Twilight reference) with a stop at JoAnn's Fabric for some leather needles for Linda's Bernina and some lining material for the combination wolf/mink jacket we will be working on.
Got to the Quillayute River Resort about 12:30 or so after listening to most of a book on tape. And then the serious seam ripping began — taking the liner out of both the mink stole and the wolf jacket.
It was a long slog — longer than I'd anticipated. By the time for dinner with a break so she could make up a couple of rooms — they are COMPLETELY booked, I'll be sleeping in the laundry room on an incedibly comfortable single bed — but I run on, we got as far as getting all the major cutting and stitching done, but the lining will have to wait until the morning. And I didn't even mention haw amazing that in the winter they are completely booked — Trip Advisor reviews (and the Twilight book/film series) have been very good to them.
 The result of the work today?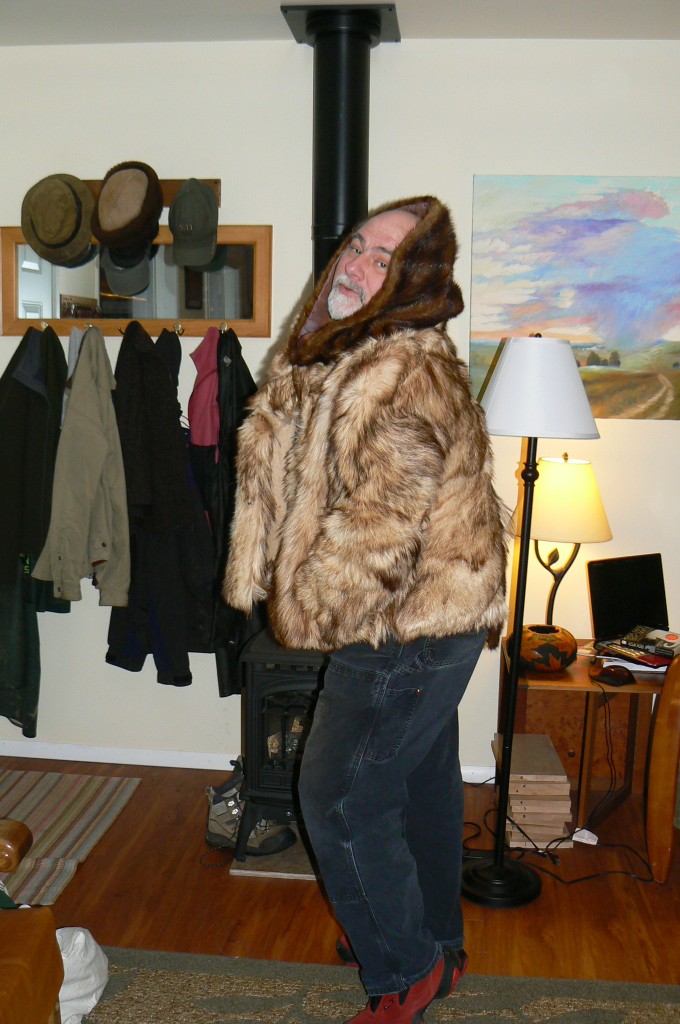 Unfortunately you can't see the mink strip that extends down the back, sort of like a reverse skunk.
A great dinner of slow cooked beef and onions over noodles with enough wine to sink a ship (it did mine) and lovely conversation. It reminds me that I need to visit more often.
[? ? ?]