Must have been the hot tub yesterday. No desire to get out of bed on the last morning of our Olympic vacation. But I must — we need to check out at noon, which is what we did after our usual morning breakfast.
The plan today was to go and spend an hour on the tube course, which sounded better last night than this morning, but everyone else was going, so what the hell, take one for the team… all for naught. The equipment was down.
Here is the link — think magic carpet dragging you and your tube up the hill so you can slide down.
As we wondered back through the village to pick up the van in the parking garage, we came across the photo opp that Ross couldn't resist… posing with one of the flame running and the torch: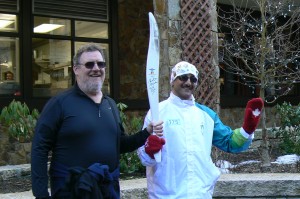 Look at that smile.
No line at the border for Nexus (OK, a couple of cars) after duty free, regular line had about a 10 minute wait which is good since Rich went back with Ross.
Got home a little after six. Turned on the TV to watch the same stuff that I'd already seen up north, made dinner, blogged, and tried to unwind.
I'm exhausted. I really glad that I cancelled the San Diego and Victoria trips for the first week of March. Exhaustion and the need to watch my shekels,
[? ? ?]