Item number one.
Now anyone can have an outdoor kitchen — though not as nice as mine, but much cheaper. Check out this two burner propane stove/oven combo for camping that I saw today at Costco. Not back for $149. Two burners and an oven!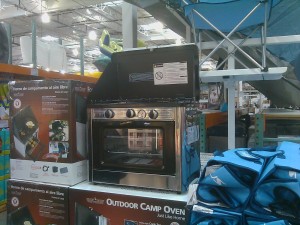 Nicer in some ways than the one I have in SOB (Son of Bob), which is going on the market very soon. That's it… sell SOB, get a tent and this.
Item number two:
The Evil Google has posted high resolution images of the airplane graveyard outside Tucson (which I visited a couple years ago and did the "boneyard tour". Unfortunately Google's embed feature doesn't work so hot with WordPress, so here is the link:
Aerospace Maintenance and Regeneration Group
So, those are the two oddities for the day.
As for the day, work in the morning while Stuart took apart the mommy van's door and fixed the window ($30 — much cheaper than a shop), looked into a trim piece that fell off from the front window ($130 from Mazda — guess I'm hitting the junk yards), ran values on the mommy van and the RV for possible sale (when you use them as little as I do — why insure them), Costco to renew membership and pickup a few things and a dinner of sauteed chicken and vegetables over rice.
How that for a run-on sentence.
[222.6]