Let the madness stop!
7:30 in the morning on of the Colonels called — if SOB didn't sell immediately, he'd be interested in it. Yikes. That would be a wild ride — Seattle to Kentucky in the late winter, hell, it is still snowing in Kentucky.
I had a 10am appointment set up with a couple from Woodinville — luckily they didn't show for another twenty minutes. Must have been the champagne last night. They were the ones wanting an early appointment as they were leaving tomorrow on a 14-day Princess cruise from Los Angeles to Hawaii and back. We did a little test drive around the neighborhood — I should say I drove they sat. They have owned other RVs and were looking for something with a higher ground clearance — their plan it to take it to Alaska. I'm hoping on the ferry rather than driving the AlCan Highway. And I thought Kentucky was a long run.
I unloaded dishes while they chatted outside in private — luckily it was the sunny part of the day.
Decision. Sold. I even threw in the macerator/pump and hose. I'll have to remember show him where that plugs in. Check in hand I signed over the title. I'll keep the RV here until they are back from the cruise (and the check clears). We could have found a branch of their bank, but this seemed easier for all of us. That and I have both sets of keys so it isn't going anywhere!
First stop after the left? The bank. Let's get that check moving.
Next stop? the Habitat for Humanity store to get the seriously modern bathtub I saw yesterday in my errands running around with the 15% off coupon. Tub? Why? Easier conversion to a hot-tub than the pool liner.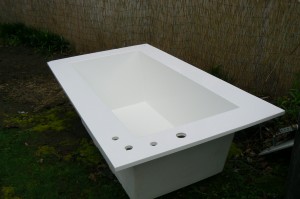 Might not even have to insulate this one since the walls are an inch thick — and it will be MUCH easier to make a square cover than the oddly shaped pond liner.
Third stop (after I unloaded the tub). Pick up a floor safe from Greg's basement. Not that I really need one, but free is free and I can go back to storing my most important papers in something fireproof. Those old love letters from high school are important.
Dinner tonight is with DancingBear. Steaks on the grill, roasted red potatoes, fresh baked baguettes, spicy slaw — with his signature Old Fashions before and after the wine with dinner.
And he has a water feature he needs to install in his back yard — so there is a use for the pool liner.
[221.2]