So, I thought my Saturday morning was going to be some quiet time on the train to Portland, reading, working on a web-site redo, having lunch…
Until Tom Hennessey came up to me in the train station in Seattle and said hello. I've known Tom since my (and his) late teens in the Midwest. I hadn't seen him in at least half a dozen years — he and his wife (and two kids, all travelling together) live in Anchorage and they caught the red-eye last night to catch the train today — also in a sleeper!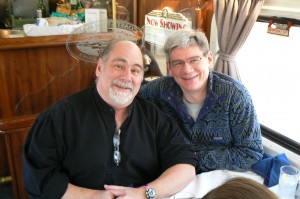 Needless to say, while the wife and kids napped from the long night, Tom and I hung out in my roomette catching up on the last few years. Too weird.
Got into Portland a little early, and was checked into the Modera by 2pm for a nap, followed by some work (to make up for what I was planning on doing on the train). The Modera is a boutique hotel right across the street from where Jamshed's 70th Birthday Party is taking place.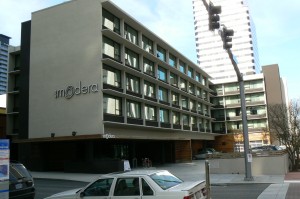 Hard to tell that this used to be a Day's Inn other than the size of the rooms. Really nice rooms, good amenities, Jill would love it for it's mid-century feel. The only odd thing is that even though there is free wireless throughout the hotel, a local phone call (or even an 800#) costs you a buck. Odd. Maybe if I get ambitious I'll post a video of the room tomorrow.
No post would be complete without a picture of our birthday boy: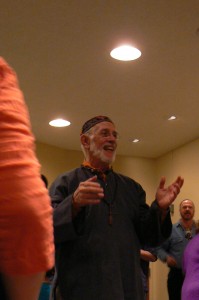 The party ran from 6-10pm in the party room of a condo tower with heavy appetizers that took care of dinner before moving up to the condo of our hosts for another two hours with several more people dropping in.
A nightcap and it's off to bed for me.
[223.1]