The morning was spent on a website re-do that was basically shot down as:
derivative
not classy enough
Well — true, but it's better than what they have, and they seem not to be able to pull the trigger and pay a pro. And I fully acknowledge that I'm not a pro — I can, however, do a quick/dirty/functional site.
But enough about work, let's talk about pleasure. Here is the soaking tub with the surround in place: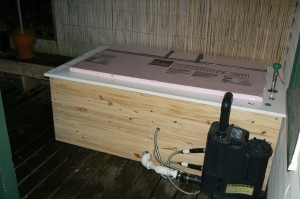 And with the stairs I built out of leftover bamboo plywood from the kitchen: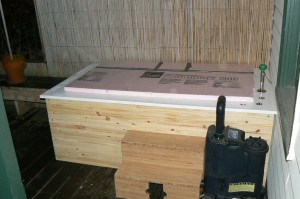 I still need to do some more detail work on the steps, but they do a great job of hiding all the plumbing, and you can use the heater air loop as a handrail. And I need a new full-size cover.
Dinner tonight was cleaning out the fridge — steak and asparagus, no salad. Guess I'll have to double up on the salad tomorrow night in Vancouver.
[224.8 yikes!]