I don't know what was in the air this morning, but I whipped through a website redesign and was golden enough for the client to ask for implementation numbers so he could budget. From derivative to collaborative in the space of a week. But that quote is for tomorrow —- the billing period is over and I'm close to my limit.
So, that damn tub project. Today found me sewing on the back porch it was that nice out. I wanted to use the serger, but after half an hour of trying to retread it I just pulled out the beast (my mother's college graduation sewing machine present):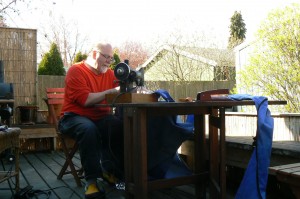 Basically I took the old cover, and reworked it into the new cover. That would be an octagon into a rectangle. Seems to have worked: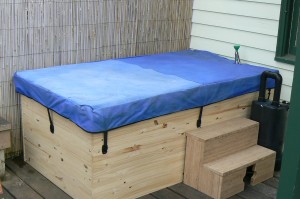 Complete with tie-downs, though I have to drain and move the tub to screw in the rest of the latches. Speaking of moving the tub — when I drain it before leaving for Cabo next week, when I return (actually from Panama, different trip) I think I'll make it "float" more in the deck — better view of the planes landing on Sea-Tac runway one (and two).
Dinner tonight was a quiet night at home — a pan-fried steak, wilted spinach, salad, split of wine.
Life is hard.
[225.2 — might be time for lipo-suction]