Another intense day of work… which is good since I need to get it done before I leave for Cabo San Lucas with Gnarlene on Sunday. Getting closer — hopefully will be able to upload the site tomorrow mid-day assuming my back and fingers don't give out.
Dinner tonight at Shanghai Garden on 6th with cocktails before. The food is good, too good. We (Swanda) always orders way to much of this good food, and then I eat too much of this good food and come home and lay down feeling like a beached whale (and probably looking like one as well).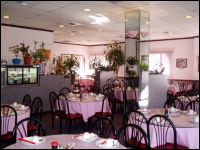 Not the best pictures, but the advantage of going with Swanda is that because he makes and impression on them (size and tipping), service is great, moves to the front of the line if their is a wait for tables, or maybe it's because he orders a ton of food. Tonight we had two new dishes — moo shu shrimp (normally it's the moo shu pork we go for) which they come and fold at the table, and some eggplant dish that was OK, but I'm not a big eggplant kinda guy. Add salt/pepper squid, some noodle dish (hand cut green barley noodles), a beef dish and you have me waddling home knowing I'm going to have to sleep mostly propped up to keep the pressure off my stomach. If there ever was a time for bulimia…
Maybe I'll pick up some nice bug in Mexico to take care of the problem.
[223.8]