For me, today was about being lazy around the resort — I didn't even get out into the sun much because of yesterday's "pinkness". Breakfast was a pork, potato (bothfrom last night's dinner) and egg scramble with a croissant for Gnarlene. Mind you, breakfast was at about 11am after much scotch and tequila last night — I'd say there is 1/4 of a bottle left on the tequila, and I wasn't drinking it. It's harder to tell with the scotch since it's in such a big bottle.
Got caught up on work before the mid-afternoon food break — pork sandwiches from last nights leftovers.
Didn't even get a nap in while Gnarlene was off exploring Cabo San Lucas proper — I might have to actually go down there Thursday when Gnarl's is planning on kayaking the bay. After so many visits I guess I should see what Cabo proper is like, though it being spring break that might not hold true (though Gnarl's did see two cruise ships in port today).
So, today's topic, cooking in condos has the following photo: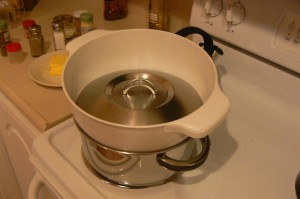 How to steam vegetables with limited equipment — take their biggest pan, drop the colander on the top, put the lid back on. Steamed rather than boiled vegetables. The mini squashes were steamed and then tossed with butter, onion flakes and a little black pepper and smoked sea salt. Yum.
To this add a baked chicken lemon, some salad nicoise, the last croissant for Gnarlene, flour tortillas for me, and you have a damn fine meal while listening to the "Mexican Fiesta" going on below us — $35US seemed a bit steep for an all-you-can-eat buffet. Seems there was also a two hour floor show and fireworks (yes, plural, not like that other time where there was "firework", precisely one).
The leftovers? Chicken was deboned, meat in a container in the fridge and bones instantly starting on stock with the leftover squash — the eventual dish… a tortilla soup once I skim the fat off and blend it all together before frying some of the tortillas and adding them as one might add noodles. Who knows what nights meal that will be.
Tomorrow night (speaking of nights) we are in the two-bedroom penthouse. Met a woman on the elevator staying in one and she was gushing about the roof-top deck. Maybe I can get Gnarlene to pick up the extra $70 for that night and the overlapping night at the end when we have to change rooms. Either way, not a big deal. Need to check it out for Rich's 60th next year.
Other amusing thing tonight was a call from Monica who I visit when I'm in Juneau — they (husband, and I assume the kids) are in Seattle and wanted to have dinner with me tomorrow. I offered them a room in Cabo, but they declined. Guess I'll be going back to Juneau.
Time to check how the stock is coming.
[? ? ?]