Chorizo and eggs (huevos) for breakfast, roll-ups with the left-overs from the fridge, and at 4pm time to pick up the keys to tonight's luxury digs… Room 605, a two-bedroom penthouse suite that Gnarlene can't understand why I got it… until he gets up there and sees it: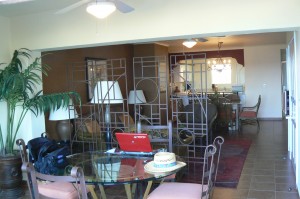 There are some videos on the site once Twango/Ovi are done processing them — maybe I'll just dump them onto YouTube in the meantime. Basically it's a two-bedroom, two-bathroom 1500 sq.ft. unit. That doesn't include the huge deck, plus the other deck upstairs with the hot tub and comfy recliners… great for nude sunbathing.
Since this unit has a BBQ on the deck, we do the steaks tonight and save the tortilla soup for tomorrow. Add some baked potatoes, a little salad, a bottle of wine and we are golden.
[? ? ?]