Gnarlene was on a mission this morning… breakfast out. Coupon in hand (1/2 off second dish) we head to Sardina Cantina Seafood Bar and Grille, whose motto is: On The Four Lane In Front Of Carol Baja Resort. Let me tell you, yes, it is on the four lane — less than 20 feet from speeding traffic. That and they have a great logo: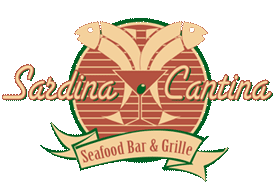 Mind you those two fish look a little phallic when you reduce the logo. Not only was the Eggs Benedict stunning (fresh, with real Canadian style ham), the hash browns were stunning for Mexico. The only downside? Cash only. But it's worth paying the ATM fee. I'm see another meal (or two) there in the future. Almost makes me wonder why I've been cooking in the condo.
Finished book two of three (all the magazines are gone through), and at 2 we were off on our missions. Mine: Tequila and Red Wine at the Mega, Gnarlene: further exploration of San Jose del Cabo.
My attempt at trying the McTrio dela Dio was thwarted by service soooooo slow I left. Thank you McDonalds. Came back to the condo complex and ordered a burger here… almost as long, but a litte fresher, though the oil for the fries might be from several years ago.
A nap was in order next… somehow, the last book I brought, "A Bar In Brooklyn — Novella & Stories 1970-1978" by Andrei Codrescu — who when I was in the zine business years ago we were on each others exchange list, just couldn't make me stay awake. Mind you — I was in the zine business from 1980 or so until the mid 90's. The collection (shameless self promotion) is the anthology edition of "Sign of the Times — A Chronicle of Decadence in the Atomic Age". Of course this made me look for the Amazon link only to realize that I didn't put it on their site and I still have two boxes left — I've taken to giving them out as birthday presents. Contact me if you want one. $10 and I'll pay the shipping.
Dinner was pretty much a disaster — bad timing, under-cooked, then re-cooked Chicken Mole Verde, the corn was shot, had to do the beans as an afterthought, and generally the Sardina Cantina was looking good. OK — the bread and the salad were great.
Speaking of good, the Flaminco BBQ evening — the music was great, checked out the grill (after dinner) and it looked like they were pulling good things off it… oh well, next time.
Gnarlene is trying to hook up with "gordo", a largest artist guy hawking his wares by the pool, I might just move to the over condo we have for the night, a studio for when we move tomorrow — got it a day early so we wouldn't have to put everything (including groceries) in storage for four hours.
[? ? ?]