Got out of the condo a little before 11 after a heavy breakfast.
Got to duty-free about 11:30 for some Alberta Springs 10-year-old Rye Whiskey (for tonight's Old Fashioned with DancingBear). And then the trouble started – even with stopping at duty-free which puts you near the front of the line, it took thirty minutes in the Nexus line (was 50 minutes in the regular line), next time, not so close to noon on a Friday.
Dinner with DancingBear at the house. Veal chops, roasted potatoes, salad, fresh baguettes, wine, whiskey, sorry, no song.
The trouble at home?
Getting closer to figuring out how to take that DC-3 flight from Yellowknife to Hay River (and back) in the Northwest Territories of Canada. How would it work?
June 15 (Tuesday), fly to Edmonton on Horizon, stay the night ($10 for the frequent flier ticket, $100 for the room)
June 16 (Wednesday), fly to Yellowknife, layover for four hours, transfer terminals, then fly to Hay River. Spend the night ($272 r-t for Yellowknife – a web special), about the same for the Hay River trip, and another $100 or so for the hotel)
June 17 (Thursday), early flight back to Yellowknife, mid-day flight to Edmonton, early evening flight to Seattle.
Three days, $800-1000 dollars, all for this: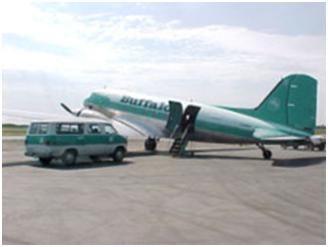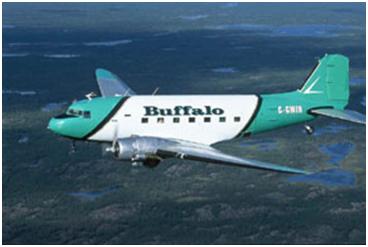 Time will tell.
[? ? ?]