Over the funk and back to billing hours and cleaning off my desk… and dealing with the 4 Craigslist ads… two down, two to go, though I had to cut the price on the pop machine – something in the last move killed the can delivery unit and after 45 minutes making my hands bloody and swearing, I just slashed the price in half – cooling works great, so it would be good for a home-brew person. Or a tinker.
Ebay. Lost a bid on this:

It's an electric Cushman cart, owed by Boeing, just down the road. Enclosed cab. Lights for possibly being street legal. Stopped bidding at a grand. Back converts from freight to passenger. Feeling like I should have continued.
Being bummed out, I but a bid on something larger but still yellow: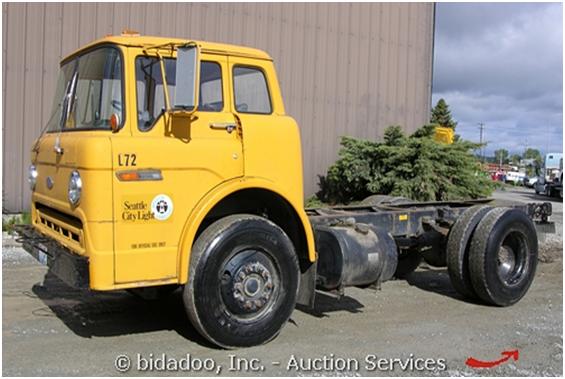 Luckily I just got email, I've been outbid for my offer of $101.00. I've always like this style of truck, and it has the same engine that the old bluebird (Bob) had. Shit, I need another project.
But, the Dr. Pepper machine is sold, but not moved. Full price, $100 now, $100 when he picks it up on Saturday around 2. Must add to schedule. Shit, that's when Jeff's film is showing, must reschedule.
Chicken Florentine for dinner.
Brother comes tomorrow.
[222.8]