The day started way too damn early. Had to be on a train at 7:40am which means to get a decent seat (we didn't) it's almost an hour before that. Totally full train, but at least the tickets were free because of my Amtrak points – still have enough for a couple more round-trips on the Cascades (Eugene to Vancouver, BC).
Train ride uneventful – read the paper, finished a New Yorker, napped.
Customs was a pain on the Canada end as ours was:
The last car to unload though we were closest to the station, and
There was a ton of luggage, another delay.
Train in the station at 11:40, through customs almost an hour later – totally amazing that we made it to the boat a little after one thanks to Sky Train (would have been earlier but one machine was broken, and one had a lady in front of it that had apparently never used any sort of mass transit automated ticketing machine.
Lunch on the Lido deck was uninspiring, even according to Dancing Bear, my partner in this adventure. The room, however, was stunning. No need to ever leave…
Wow, double doors opening onto the deck with two chaise lounges, a table and four chairs.
After the mandatory lifeboat drill, this one sans life vests… apparently a new policy, too many accidents on the stairs, it was off to the Crows Nest for the GLBT event – which for some stupid reason they scheduled in the same bar as the bon voyage party. No signs, and no sign of any gay ship board life.
We checked out some of the ship, did some duty-free shopping for booze for tonight, swung by the Neptune Room (the private lounge for Deluxe Veranda Suite guests, had some nibbles, and decided on what the dinner plan was going to be. Answer? A catered meal in the suite, lounging on the deck in our bathrobes. The menu:
2 orders of the Mariner Seafood Cocktail
1 order of the Captains Antipasto Plate (which was missing its Pate)
1 Gourmet Green Salad with Sesame French dressing
1 Caesar salad (for me)
1 Roast Tenderloin of Beef (Medium Rare for Dancing Bear)
1 Leg of Lamb (ordered medium rare, came medium, for me)
1 Yukon Sour Dough Bread Pudding (for me)
1 Upside Down Apple Walnut Tart (for Dancing Bear)
1 cheese and cracker platter (for me)
1 double espresso (had to throw it out it was so bad)
It took the waiter two of those huge trays to unload all the stuff onto the deck. But what a way to dine.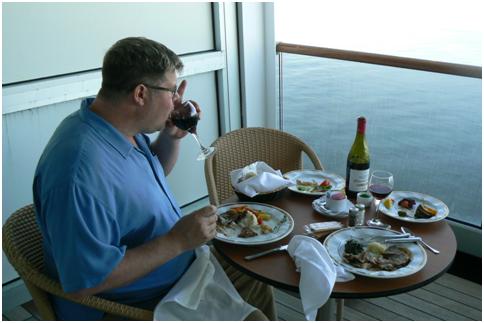 Didn't make it to see the stage show… but did manage to go through $150 worth of room credit because it was use it or lose it:
1 welcome old-fashion for Dancing Bear
2 minis out of the fridge for me, plus 1 mixer for Dancing Bear
2 bottles of Absolute from duty-free
1 double espresso with Cointreau after dinner (for me – our concierge when down and got it for me personally)
1 bottle of 2007 Chateau Nuef de Pape with dinner.
Here is the scroller bar with all the pictures:
With the food and the booze we were in bed and snoring early.
[223.2]