Wake-up call came in on schedule at 7am. In theory I could make it to Deer Lodge by 1:30 and still leave at 9am, but you know me – better early than late.
Got to Deer Lodge at noon – only to find the motel front desk closed until 2, now THAT'S weird.
Back up plan, the old Montana State Prison in downtown Deer Lodge. The prison was retired in 1979, twenty years after riots ended with three dead and the use of a bazooka to rescue hostages.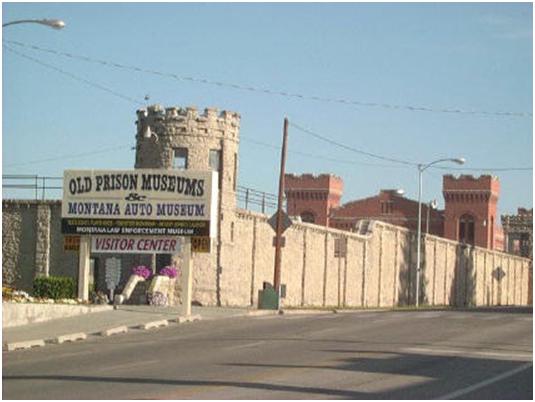 I would have spent more time in the car museum next door (part of the AAA-discounted $7 admission), but I was running low on time to I grabbed a sandwich and headed out to the modern prison west of town to see Steve.
It's "odd" how they do prison visits here… put your car in a line about a mile from the prison, wait for a pilot car, pass through the gates and head to the nigh-security facility for check-in and pat search (I got a really cute guard!), and then for those of us with "good" prisoners, get loaded into a van and taken to the Work Dorn where prisoners where blue jeans and work shirts and actually get to wonder around their facility.
Spent a couple of hours visiting with Steve. It was a good visit. He looks well, and it sounds as if in July he might be able to move to "boot camp" which is the next step before being paroled. My worry on this visit was that he would be out on a fire when I can to visit – his worry as well! Oddly enough, played three rounds of Sorry, last visit, it was the game of Life – not sure why prisons choose games like this – is it some twisted irony? Sorry? Life? Anyway, it's a good way to pass the time while chatting away.
Got back to the motel around seven, stopped at Safeway, logged, on, found a GPS unit that might fit over my less the useful one in the Jag (after having to borrow a tape measure from the front desk who wanted to know all about the Jag) and the rest of the evening was spent eating part of a roast chicken with the last of the salad, one of the dinner rolls from Old Faithful (the last one will be for a chicken sandwich for lunch tomorrow), and finishing the last of the red wine I packed. It must be time to go home.
So with that thought, here is the scroller bar from this trip:
[? ? ?]