I got out of the motel a few minutes after nine… the sun was sort of out, but wicked cold. No top down.
Next stop, Superior, MT for gas – managed to get the plus version of unleaded for $2.99, way to go Montana, so far the cheapest gas this trip ($3.50 for premium in Yellowstone), then down the road to St. Regis to stop in a couple of antique stores which yield nada.
The yield happened in Wallace, Idaho – most famous for (beside the Oasis Bordello Museum) being the last stop light on I-90. It's also chock full of antique stores. Here is what the yield was: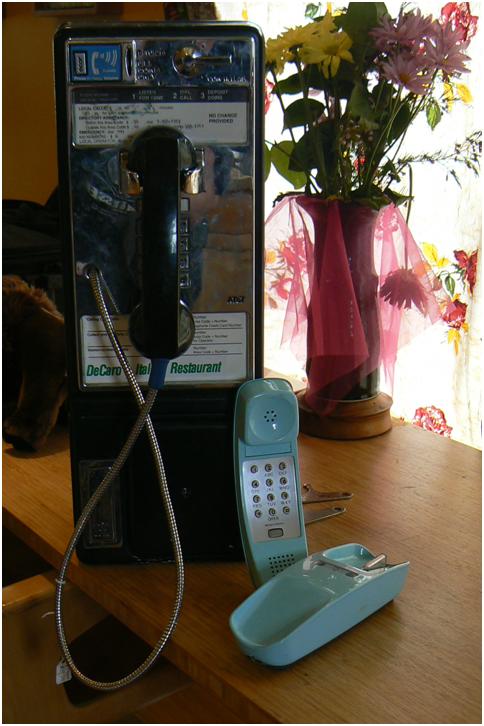 I have the cord for the phone, but it's in the dishwasher getting years of nicotine off it. Still no 5-line yellow touchtone to go with the Charlie's Angels speakerphone, but still a nice addition. Like I need another payphone (I have one in red)
Stopped in Kellogg, Idaho, just down the road, a bust, a waste of time. After that is was straight through stopping for gas, food, and pee breaks. The only amusing part of the drive was with the top down going over Lookout Pass… and it started snowing. That's a new one, driving through a snow storm with the top down.
Dinner was a couple of martinis and some of the leftover chicken from last night.
[? ? ?]