I don't know what got me charged up today but it should happen more often.
After the morning taking care of the few work details it was off to the Eastside to deposit a couple of checks (one WEEKS late), groceries, Lowes for drill bits, the apartment to drop off magazines and a photo for Joy who works in the office. She had inquired about my shoe fetish (sort of like my phone fetish).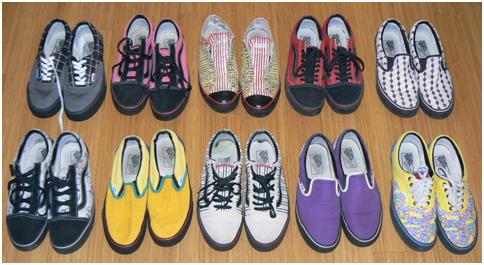 With the exception of the pair in the middle of the top row, they are all custom Vans. The clown shoes are Converse. The links take you to their custom shoemaking site. I should really get a commission of all the plugs I give these guys. I understand that Nike does the same thing, but haven't tried them yet.
After all the running around it was home to plant the basil and the assorted herbs on the deck which got me looking at the lawn which was time to mow, starting with the alley which I went all the way down two neighbors away (electric – good thing I have a lot of extension cords) to take care of blackberries growing into the alley. I love a good run-on sentence.
Had to rest for a bit (well, I put another coat of Varathane on the trap door) before attacking the rest of the lawn and staking down some more weed-proof cloth in front of the garage for the hopefully soon delivery of gravel. If I'm not billing hours I have to be working on the house.
Good thing I got the lawn mowed… by 5 it was raining, and slated to be raining through Sunday. Guess that means the al fresco dinner with Swanda will be put off.
As for dinner – the worst attempt at breaded dover sole in my life. Luckily it was just me for dinner.
[226.5]