Started the day late by laying in bed… it was good until I went to find the Wall Street Journal which was gone. 🙁
Still working through the list of chores – got the locks rekeyed to just one for dead-bolts, door handles, and garage handles. MoonSong has a key, and I have one waiting for Johnny for his occasional visits. Everybody else gets to do the word-combination locks on the fence gates and then the key-box by the back door.
Got a little further in the trap-door project by cutting down the size of the spacers to get a door totally even with the floor… one more tweet tomorrow and it should be finished. Now I just need a rug to put over it – yes, all that work soon to be covered up.
Michael and Dancing Bear showed up at about 5 to start working on re-systemizing Michael's Acer Netbook… Mick didn't have an external DVD drive, and I had one for exactly the same reason – to work on my Acer which is currently the web-surfing computer for the living room. Swanda showed up early from his play-date that he might have described as so "vanilla" that it was probably "imitation vanilla".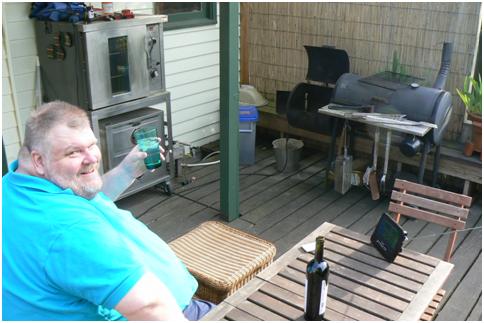 As you can see from the photo – Al Fresco Dining Season has started…
Items of note:
Gin and tonic in hand
Wine ready to go for dinner
Small HDTV showing the ABC news
BBQ plugged in and coals starting to glow
Fresh bread in the warming oven
A couple of pork loins, baked potatoes, salad, couple of bottles of wine and much laughter.
[226.6]