Projects I thought about today:
Fixing the fan in the bathroom (which really means plowing into the bathroom wall to add a switch for the fan separate from the light switch and adding GFI outlet – talk about project creep – might farm that one out to MoonSong since I hate working up in all that loose insulation.
Designing the wine cellar since summer (and the heat of summer) is coming up. Under the trap door would be the naturally coolest place in the house – hell I could even up in a small air conditioner.
Finished the shimming of the trap door, guess that goes with the design above.
And the projects I did get to day:
Preparing the back yard alley area for 4 cubic yards of driveway rock.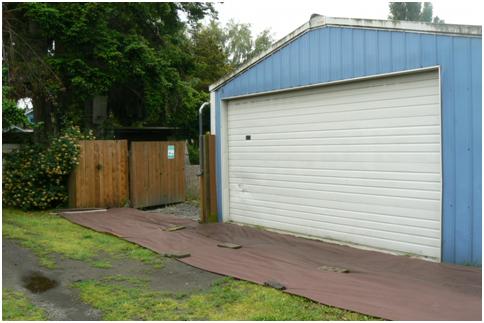 The brown stuff is weed-block – looks like I'll need a minimum of 3 yards of driveway gravel, probably more like 4.
Dinner tonight is not al fresco… one sunny day and the rain and drizzle has returned. It's just me, a steak, some spinach and maybe a little wine for the heart.
[266.5]