It's a good thing I don't have any major clients at the moment – with the list of projects still needing to be done around the house.
Today's project: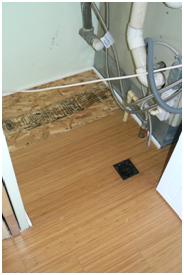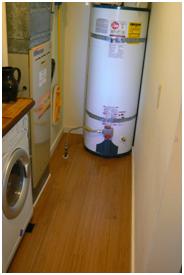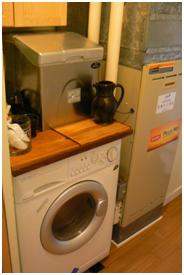 Using the bamboo flooring from the old trap door lid to finish the rest of the laundry room floor and add a drain (the black square in the first photo). I didn't have quite enough to finish it to the wall but that will be behind the washer/dryer combo.. and the edges got caulked and sealed in several coats of varathane so should it leak it will head straight to the drain instead of sitting there and start the molding process.
And while I was at it I made a top for the washer/dryer combo that holds the icemaker, blender, and chopping blocks – the bar is moving in here from the kitchen counter. It really opens up the kitchen counter, and the cabinet above is big enough for all the glassware and bottles unlike the previous location.
Dinner was supposed to be with Swanda but was postponed due to crankiness (his, not mine). We are on for tomorrow, so it was just a baked potato and Kobe-style steak for me, rather than salmon and green beans.
[226.5]