Today's adventure takes Uncle Markie to Peyton Place, oh, I mean Pacific Beach, Washington.
Got out of town around 10, to Olympia around 11, and off to the coast around 12 after a last minute shopping excursion.
The HMS Rich was loaded with chairs, Curt, myself and Rich. We really should pitch in and get him a nice six-door model.
Hung out with the neighbors most of the afternoon until it was time to fix dinner — a leg of lamb, roasted potatoes and onions, rosemary bread, wine… and for dessert, a 50+ year old bottle of Madeira that I'd been dragging around for 20 years of so. It was amazingly good for being so cloudy.
And why do I call our destination Peyton Place… seems to be a lot of partner swapping going on out here in the woods next to the beach, and sexuality swapping as well. It was definately a Saturday Night around the campfire.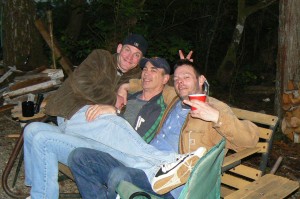 One gentleman was so out of control he had to be escorted back to town. Luckily Rich and I had passed on Karaoke at the local bar favored by all the local and non-local color and got him back to town safely. He was a local, most of the other revelers were Tacomans, Olympians — sheriffs deputies, firefighters, random lesbians.
Just another quiet night in small town USA.
[224.2]