Had a little time with Devon and Maggie before hitting the road for Canadaland a little after noon.
Twenty-five minute wait at the truck crossing for non-Nexus members, no wait at all for those of us with Nexus cards. Picked up a bottle of Knob Creek ($21 a liter) for cocktails tonight, though I'm sure it will only be myself and BamBam drinking the hard stuff – Helene is bringing wine, Hummingbird, dessert.
After the border, it was off to a different Safeway – my old stand-by has been closed for a new condo development. It turns out that this one is even more convenient as its just off Oak on King Edward, which then I can take to Granville. No provincial liquor store in the parking lot, but a private one.
Dinner tonight? Wild salmon steaks with herbed butter, a big salad, a loaf of bread (with crackers and spread for appetizers). There were only three steaks in the display case, so the butcher cut me four fresh ones.
Here is a shot from the condo before Helene arrived: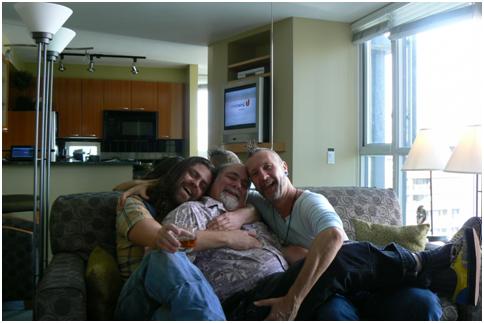 That would be BamBam on the left, and Hummingbird on the right.
A lovely evening all around.
[226.6]