The only thing keeping me from totally sleeping in this morning is the 11am check out time. My plan of finding brunch (on Father's Day) downtown, melted away with the rain that started at 9.
Solution? Wait until the last minute, check out, take the shuttle to the airport — so much for exploring Old Town.
Much better lobby shots this morning: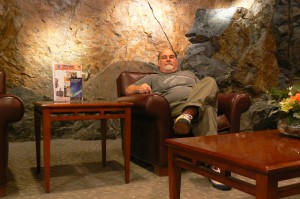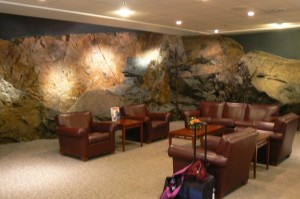 At the airport at noon for an amazing Montreal Smoked Meat sandwich and fries — I should have had that for dinner last night rather than the ribs. Hotel ribs versus airport food — and fresh-made airport food wins.
A couple of hours of wandering around the airport while it rained… and then it stopped. Which is good, because I only have one more New Yorker to finish.
With the rain stopped, I take the hike to the Buffalo Air terminal — they used to board at the main airport, but security after 9-11 got beefed up, and the barrier between secure, and less-secure got complicated with lost airside passes and lots of hassles. Who is going to blow up a DC-3.
So with that, the picture bar (maybe that phrase will pass spell check):
And here are my favorite pictures from today — me at 6500 feet in the co-pilot seat of a DC-3 with a hottie at the controls. Co-pilot a DC-3, get a T-Shirt and a pin? Got both. Didn't get the pilot. He's the young guy in the photo bar — but here is me in the cockpit: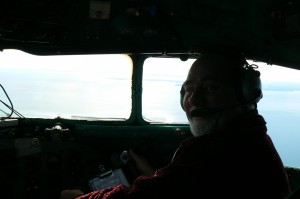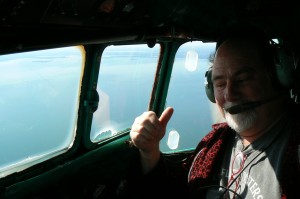 What were they thinking — 6500 feet over Great Slave Lake! With a Orange juice and whiskey in my glass.
Tonight — the Mauve Palace, a.k.a. the Western Budget Motel in Peace River Alberta where the desk clerk at 11:30pm knows Joe of Buffalo Air, but still only gives me the corporate rate — and only kitchen units are available, good thing I found a 20CAN bill on the island when I refueled at the station I'd refused to use on the way up to Hay River, and worried about for the next two+ hours when I was running short of gas. Huge place… could roller skate. Kitchen, dishes … found the real glassware. $105 — way more than I wanted to pay, but I need to break up a 12 hour drive.
TV, internet, cocktails, maybe some sleep if I finish this post.
[? ? ?] But with road food, god help me.