Nice to be back in my own bed. And to sleep in until whenever (9:15 this morning).
A couple of client issues in the morning, cleaning out all the clippings from the trip and getting those in the mail, picking up the dry cleaning, dropping magazines at Wonderful's place, packages at the apartment, Safeway for groceries and gas, trying to ignore the fact that the lawn really needs to be mowed and it's a sunny day.
In the three packages were two phones and two bottles of wine from Bonny Doon – one a Method Champenoise from a Reisling grape. Yes, more phones: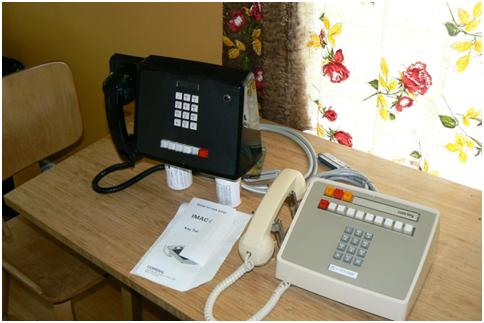 One 5- line black wall phone and one 10-line, both picked up for less than the shipping was – and the 10-line came wrapped in liquid absorbing packing not unlike adult diapers – luckily not previously used. The black one was NOS (new old stock), never used, and has all it documentation, key labels, the works. Getting a little closer to my Skype Speaker Phone up and running.
Dinner tonight with DancingBear and Swanda – al fresco – finally the weather is cooperating. Talapia stuffed with lobster and crab, a big salad (missing my greens from the great white north trip), bread as rolls, and the champagne from today's shipment.
Yum.
[225.4]