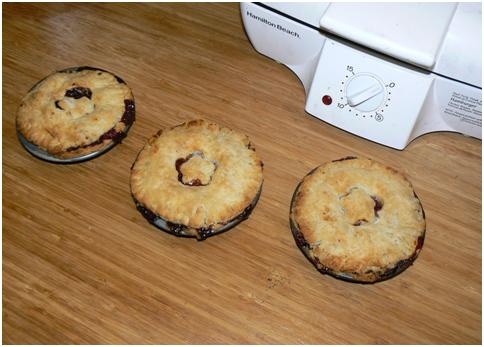 I don't know what got into me today (or yesterday) with all the cooking. Today it was all afternoon in the kitchen working on boiling down a ham hock to go with the black eyed peas to go with the collard greens with bacon that Darcie and Jeanne are brining to go with the last two Portobello stuffed with lamb. But the most ambitious project was to take the 2# of bing cherries I got, but then still hadn't eaten, and turn them into little tart size pies. It yielded six of them, here are the left overs – guess that will be for tomorrow, or I'll randomly drop them off with friends. Check that mailbox!
What amazed me was the crust actually came out flakey without being refrigerated overnight. Guess what they say about butter from the freezer and ice water really does work – only took an hour in the fridge/freezer to get the dough to settle down.
Dinner was al fresco which I was not expecting when I got up this morning to grey skies and drizzle. Amazing what a few hours makes.
[226.3]