Well, with no wheels, no running errands for this boy. Just things around the house. Like things in the garage… Gnarlene is taking a couple of door frame pieces, and about 80 feet of 1×6″ clear fir tongue and grove for his sauna, and I'm building him a sauna door from the slabs of 1″ cedar that I salvaged from the church (first a 3'x11′ banquet table, and now a sauna door – and there are still another half dozen slabs. And yes, that I a ¼ tempered glass window in the door. Sonthing else that was laying around.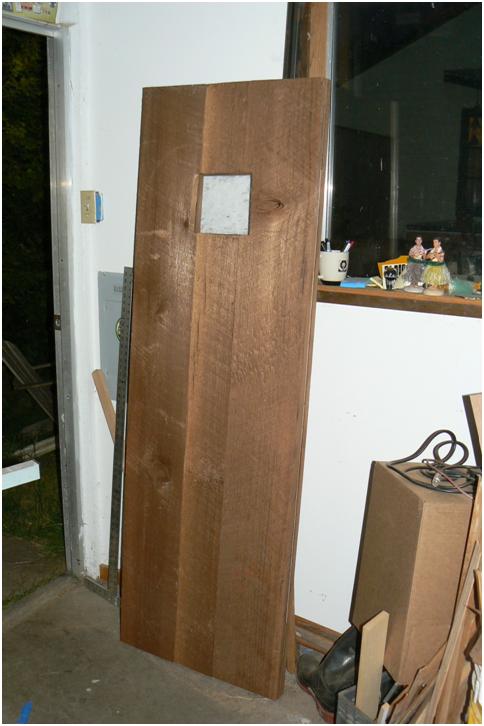 Basically it's 2 ¼" ticket – a sandwich of planks, ¼" plywood, more planks. Air-gun nailed from the rear on one side, screwed from the other (screwed side goes towards the dressing room as you don't want hot screws on your back. Still need to make some handles for him. That won't make much of a mess in the garage.
Speaking of garage – found the source of that rotting flesh smell – a rat about 8″ long that maggots were having a great time with. I had to get out the rolling extension table that's the same height as the table saw – this enables me to make long cuts without anybody else's help. Shoveling the body up and out in the alley for the cats, and dumped all the cedar trim off on top of the remaining maggots to kill them, something about the cedar oil that is rough on them. And it makes the garage smell much better.
Got the call at 3:30 that the PuddyCat was ready to leave the spa… $750 and three days later. Ouch. Round number $250 to diagnosis erratic warning lights (not worth it to fix unless it gets much worse) and $500 to get the passenger side window working again – would have been more if I'd busted up the mechanicals (part + $1,000). Might be time to look for a new black convertible.
Dinner was leftovers – actually the best solo dinner I've had in awhile… the left over salad combined with the leftover chicken. Big, good, and healthy.
[222.3]