I woke up this morning with the resolve that PuddyCat and I were mated for life. Then TinTin called.
TinTin returned my Saturday call, yes, come see the Miata (he'd recommended the black/tan BMW that was mide-20's and out of my range). 1pm with his preferred/favorite sales person (he's in parts). I forgot my phone, but he was in the lot – worked well.
Test drive. Good. What's the PuddyCat worth. Time, stroll the lot looking for other things, or just looking. What do you want out of the car? What are you willing to pay… blah, blah, blah.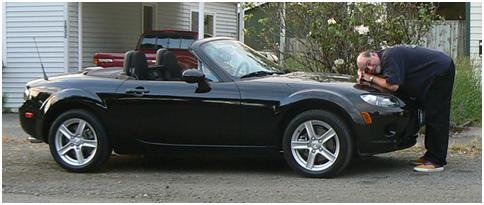 Of course there was still the hour plus to get all the transfer and purchase paperwork done before I could hand them my Visa to rack up more miles on Alaska. Hell, I could even leave it on that card since it's only 10.4%.
Actually I think that I'll actually save money with the new car…
That erratic engine message would be $3600 if it became permanent
The tires would have needed replacing in the next year at about $1000
A 25% reduction in my auto insurance
A 30% increase in my gas mileage – 30mpg versus 25mpg highway
No more $120 synthetic oil changes
Regular rather than premium gas
Plus there are the bums at the end of exit ramps – they tend towards being aggressive when in the Jag. Oh, and it comes with a 60 day, 3000 mile warranty and free car washes for as long as I own the car.
Drinks with Swanda after the purchase, then home for a steak.
[223.4]