Before we get to Vancouver, spent the morning and early afternoon playing on the mountain: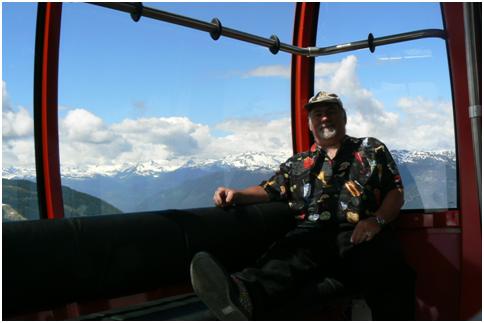 Talk about fun. Mind you I was a little skeptical about paying out $46.95 for a day pass on the mountain. Well worth it. Wish I'd had more than 4 hours to play on the mountain.
Here is the link to all the places you can get to on the mountain, including the Peak 2 Peak (Whistler to Blackcomb) Gondola.
How I spent my time was taking the Village Gondola up to the top of Whistler – 25 minutes. Actually it isn't quite the top – there was a chair lift that went to the peak, but that required a quarter mile hike down, which I wasn't worried about, it was getting back up – I was feeling a little dizzy from the elevation. If it'd had time later in the day I'd have done it after I was a little more acclimated.
Next was to take the Peak 2 Peak over to Blackcomb. Here is the blurb on the Peak 2 Peak gondola (two of the cards even have a glass bottom – very popular, I didn't wait for them. (Note to Swanda: NOT for you)
BREAKING WORLD RECORDS.
CONNECTING MOUNTAINS.

Spanning the distance between Whistler and Blackcomb Mountains, the new world record-breaking PEAK 2 PEAK Gondola is a breathtaking, 4.4-kilometre journey to infinite possibilities. Redefining the Whistler summer experience by creating limitless new ways to get up-close-and-personal with the mountains, this engineering marvel breaks three world records.

Longest unsupported span of 3.024 kilometres


Highest lift of its kind at 436 metres above the valley floor


Completes the longest continuous lift system on the globe

Wandered around a bit, then caught a school bus shuttle to the 7th Heaven ski lift and go hang out on the Horstman Glacier with all the boys (and girls) still snowboarding and skiing in late July. It will be open until the 25th. Tromped around in the snow for a bit then did the whole route in reverse, waiting for an empty gondola car that I could have to myself – that is where the shot above came from.
Here are all the shots I took up there:
Next stop, the WorldMark At The Canadian, downtown Vancouver. Checked in at 3:30pm, got settled, checked mail and headed to the IGA for dinner fixings. Hummingbird and BamBam coming to dinner. Broiled salmon, a Caesar salad, a loaf of bread, a couple of jugs of wine, and a fine time was had by all.
Fluffernutter and TinTin showed up at 1am to claim the bedroom. Only fair since they are the ones paying the bill for the two nights. I crashed on the coach.
[? ? ?]