It is never a good day when you have spent the previous packing the trunk only to have the Check Engine light come on it the morning – too much time with the trunk open, low battery, low fluids – it's not like the old days then that light said – "stop the car right now or it's going to blow up".
Mind you, this is the NEW car (well, new to me).
I checked the fluids and off we go. I have charcoal to deliver. There is a pig to roast.
Got out of the house a little after 10:30, and was on the mountain with the charcoal around 1. Beautiful day for a drive… why is it that people on scenic routes driver 20 mph UNDER the speed limit. Hey, pull off, look at the view. I've got a pig going onto the grill, get out of my way. I was doing the speed limit, but constantly bumping up against the "gawkers". Get a National Parks Pass – you can do it every weekend that way.
The pig (before):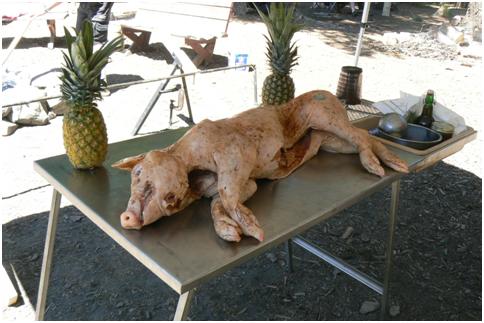 The pig (after):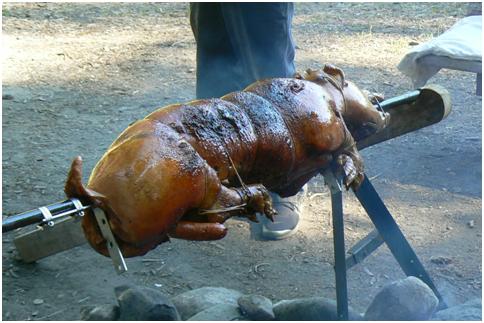 Please notice the strategically placed Italian sausage to change the gender of the pig. Pig on at 2, dinner at 7, too many chefs in the kitchen, good, but not stunning. In my opinion, one should add coal strategically, not a bag at a time. Swanda and I out of there at 9ish to head to the "motel".
Motel is in quotes because… well, motel? Campground? Brothel? Flop House? Not sure – I'll report tomorrow morning. Freaky neighbors in a 5th wheel who think their children are going to be snatched at any moment. The promised wi-fi – oh, well if you can't get it in your cabin, come to the restaurant, you don't have to even buy coffee… it's 10PM, restaurant closed and I'm not going to sit on the steps and hope they haven't turned it off for the night. No cable – the company stopped providing – hello satellite… but they do provide "family friendly" DVDs – assuming you show up before 8pm when their office closes. Thank you Swanda for stopping at the "motel" before heading to the ridge.
We will see if I actually make the second night of the "Ridge". If we were talking about the Ridge Vineyard, it would be a yes.
[227.4]