Nothing like having breakfast at the dealership… well, not really, just a pastry and a can of Diet Coke to tide me over until I could get to Uwajimaya for a proper sushi brunch.
I hadn't even finished the Wall Street Journal (but made quick work of the sushi) when the dealership called. Same problem. They can't fix it. They are shipping it over to the Mazda dealership (I assume another Lithia subsidiary). Won't be back until Monday afternoon at the earliest. Do I want a loaner car. Duh – I've got plans for the weekend.
Walked back to the dealership, finished the WSJ while they did paperwork for the loaner. And what a loaner it is: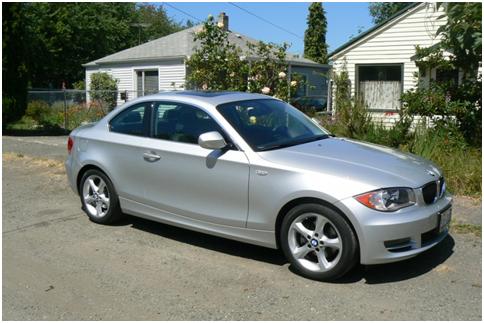 It would be a 2010 BMW 125i with 6500 miles on it – Kelly Book value? $30K – almost twice the book value of the car they are fixing. Nice. Maybe I should have held out for a convertible since the weather is supposed to be nice this weekend.
The evening was consumed with Patsy's 50th B-Day party, which the invitation (in part) read: No gifts. No kids. Bring a bottle to share. Lovely sentiment and lots of people I hadn't seen since their wedding 12 years ago, and other friends that it has been far too long since I've seen (like at least a year and a half – my Jaguar phase).
Tons of good food (thanks Jimmy and Suze), dancing, and surprise guests from Vermont Alec and Lindsday.
Luckily I was staying just down the hill at Jimmie's place.
[226.8]