So – I know that those two sound like they go together, but the Cleaning portion of the headline was my teeth – and old fashioned feed me the nitrous and scrape the hell out of them. I prefer that to taking out the water jack hammer and going after my gums. My favorite memory of a teeth cleaning (if that is such a thing) would be around Christmas time in Vic's office on Capital Hill and he had a vacation substitute hygienist in – in her words "making a little extra Christmas present money". She was seriously old school – notes on the chart were nitrous, then numb the gums, then the jack hammer. She looked at the situation, said, it's not that bad, we settled on just the nitrous and she went to work – sharpening the scraper after every ten or so scrapes – if they ALL did that, they wouldn't need the water jack hammer. Me thinks modern hygienists have gotten a tad lazy.
But I digress – organizing. After the dentist it was Swedish Meatballs with a side of Mac and Cheese. OK – not the most healthy meal, but I've been to the dentist and deserve some sort of treat. Which means I was at IKEA. The result (after much swearing because of the heat and my lack of coordination) was a new bookshelf for the office which cleaned all the books off the coffee table (and from under it),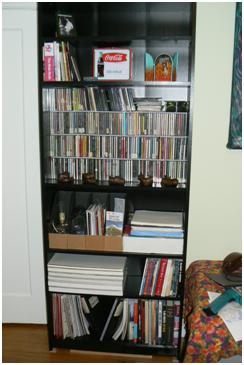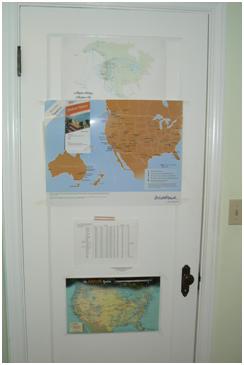 First photo, new bookshelf, almost filled already, second photo(back of my office door) – top, Alaska Air route map, next, WorldMark locations with US map hanging over poster, next, first class airfare to all Alaska cities, what the $99 companion fare yields price per, and the mileage, then the Amtrak route map. I am a travel geek, I admit it.
Blowing my nose all night from the dust I've kicked up.
[225.6]