It was a late night of shooting the shit with Julian which means we didn't get out the door for breakfast until 11:30 – or would that be lunch?
The drive back was grueling at points – apparently there is 10% more traffic on summer Sundays along the I-5 corridor. I felt it. Many, many bozos smacking their cars into each other and stalling traffic (three multiple car collisions). News from later in the afternoon was that traffic was stop and go from Lacey to Tukwila – that's like40+ miles. Yikes. I might have made better time if I hadn't stopped in Lacey for a Safeway meat run (and dinner supplies).
And a thank you to Pat in Berkeley who forwarded this tidbit from Edinburgh about aerial dining: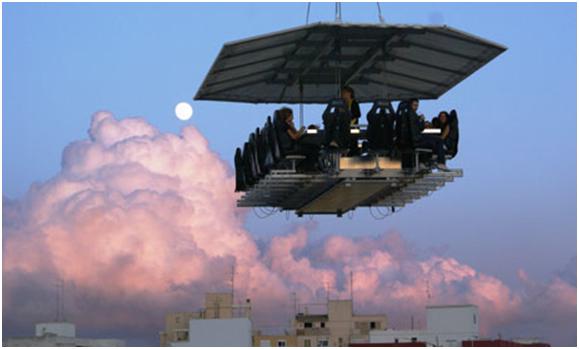 Click on the picture to the link to the article. I'm guessing that my version is much cheaper to implement.
Packing for Canadaland in the morning because of a $58 roundtrip coupon on Groupon.
[? ? ?]