Crowdog is up at 5.
RobinHood is up at 6.
UncleMarkie is looking for coffee around 9, and waiting for the second breakfast of the household day, we will call that "brunch". Thank goodness I have tolerant hosts – it also allows them to the garden watering out of the way early.
My lovely hosts, who don't really know that I'd just be happy parking myself on the lawn or in the garden with a book and an umbrella listening to the chickens and the blueberries ripening… suggest a hike (queue "roll of eyes") and then settle into another plan.
Shopping for groceries and booze after a stop a Valhalla Cabins to visit some of the other faeries on the island (not home, but groceries and Plymouth Gin)
Internet (Wi-Fi, both RobinHood and I had our laptops) and sandwiches at TJ Beans
Thrift store shopping (me, while they were still logged on)
Pretty hippy boy watching (think the San Juan's in Washington State)
Winery number 1: Mistaken Identity. Got a recipe for a non-tomato-based pizza (and the recipe for the dough) that is roasted fennel root, Italian sausage and smoke Gouda cheese. I'll try it an pass it on if it's good.
Skinny dipping at one of the lakes – too bad the cute 20 something's looking for free camping (but swum in their underwear) were leaving as we got there
Winery number 2: Salt Spring Vineyards
Winery number 3: Gerry Oaks Winery (for sale, owner consultation for 2-3 years included)
Cheesery: Salt Spring Cheese – apparently they know everyone on the island.
Bakery (Salt Spring Baking Company) with a 270 degree view (CrowDog works there for extra change)
Home for dinner with a couple of boys I last met in Yelapa which is on accessible by a boat (theme?) south of Puerto Vallarta (who run the Valhalla Sleeping Units). Wings, lamb, fresh salad and vegetables from the garden, chatting into the night, many spilled drinks….and many references to Bacchus.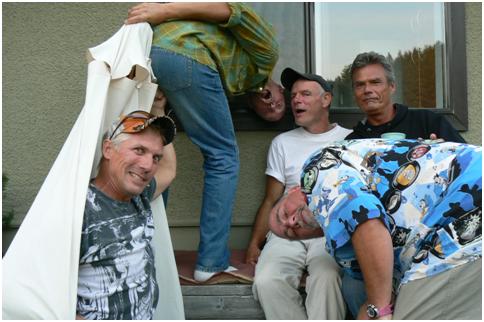 Once again, to bed late. But oh, what a comfortable bed it is – I feel like I have landed in the lap of luxury rather and a rural farm.
No wonder I sleep late.
[? ? ?]